We provide a turnkey solution for your virtual and hybrid events.
We offer professional services and tools to support your entire event journey.
Create a powerful virtual event experience
for attendees, contributors and organisers.
Virtual Event Types
Hybrid Event
We believe that the future is hybrid, where live and online audiences join and participate in the same live experience from different locations.
Flagship Event
We have years of experience in creating international flagship events around the world.
Customer & Partner Event
A customer & partner event is a chance to showcase your brand voice, company values, get in front of potential clients and build business relationships.
Personnel Event
We help you create connections and build strong relationships with your employees through the power of memorable event experiences.
Leadership Forum
A leadership forum is an experience like no other. Bringing together renowned leaders who share their ideas, stories and experiences will make a lasting impression on everyone attending.
Kick-Off Event
Hit the ground running with a memorable kick-off event - inspiring, exciting, and full of energy, but also informative and well structured. Whether it's a campaign, the new season, or your latest strategy, we make sure that people leave with lasting memories.
Strategy Sharing
Make sure that everyone is on the same page and are heading in the right direction. An event is an excellent way to share your strategic plan and make it count!
Product Launch
A product launch event is an excellent way to showcase your latest product to investors and customers, generate hype, and even acquire some sales right then and there.
Virtual Event Journey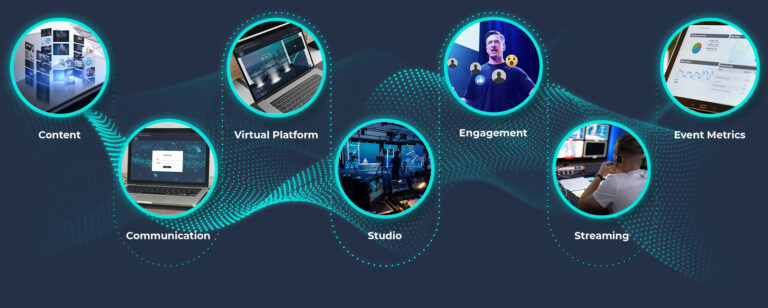 Create powerful virtual event experiences with innovative technology and careful strategical planning.
We are your trusted partner with experience, skills and resources to support your journey.
Take the first step towards your next virtual event!
Virtual Platform
Global Virtual platform is our all-inclusive, business-first, fully tested and ready to perform virtual event platform. It is a great choice when you want a fully branded seamless attendee experience. Stand out with exceptional ease of use and a stunning interface.
The platform has amazing built-in engagement possibilities and lead generation opportunities. Measure the success of your event or easily identify potential business opportunities with attendee engagement scores.
Book a Demo at NJ Virtual Hub to find out more.
Virtual event modules
Virtual Lobby
Your lobby is the gateway to your virtual event.
Digital Main Stage
The main stage experience is a moment that sets the tone for the whole event. It spotlights the performers and presenters and conveys messaging that leaves attendees with a clear roadmap for your event and showcases your brand.
Parallel Sessions
Parallel sessions enable you to accommodate a larger number of presenters than if you would hold them concurrently.
Roundtable Discussions
A virtual roundtable is an excellent way to facilitate executive-level discussions, talk about business challenges and ideas and share valuable experiences.
Partner & Sponsor Area
Put your partners and sponsors in the networking heart of your event and help them create great connections with attendees.
Expo
Virtual expos can benefit just about everyone. Exhibitors built their virtual booths to showcase products and services to attract interested attendees and potential customers.
Networking
Even when you can't meet in person, that doesn't mean business — or the need to build relationships — stops. Enhance your own network, as well as your reputation as a connector, despite being physically separated.
One-on-one meetings
One-on-one meetings are one of the best ways to build a strong rapport, build relationships and create a culture of trust.
Team Activity
Virtual team building is the ongoing process of bringing remote teams together. It'll help your team achieve deeper bonds by creating a collaborative environment that's similar to an in-office setting!
Engagement & Interactions
Polling, voting, chatting, quizzes, reactions, emojis - all customizable!
Afterworks
To celebrate the end of an event-day, consider hosting a virtual cocktail hour, or any other form of casual mingling.
Celebration & Awards
Recognize the best of the best and end your virtual show with a virtual bang!
Studios & Streaming
Your studio – whether virtual or physical – is the foundation for your event. It will play an integral part in your content and must be carefully chosen and set up.
We have a wide range of different studio options, from fully contactless virtual studios to grand custom-built physical studios. Our global network of studios and talent pool of specialists allows us to find you the perfect fit. We handpick the best experts for your Studio Team to best make use of all possibilities and support your event journey.
All the amazing content produced in the studio must reach your audience. Another important aspect of virtual events is streaming. You need a professional team specialized in streaming and IT services, especially if your virtual event has an international reach.
Our studios
Virtual Studio
The fully contactless solution, where presenters and attendees can join seamlessly from their homes or offices. Completely brandable, multi-functional, with endless technical possibilities for unlimited engaging and interactive solutions.
Studio Network
We have a range of readymade studios for your events around Scandinavia and in the main hubs of Europe.
Pop-up Studio
A custom-built studio can quickly and efficiently be set up anywhere. It's the perfect choice when a live stream is broadcasted from the office, production site or any other special location. We have a range of remote broadcasting options available and can connect different locations to our other studios.
LED-screen studio
High-resolution LED screens create a multi-functional space that allows unlimited creative, immersive, and interactive possibilities.
Home Studio Kit
You can look and sound professional even from your own home without a production crew or complex equipment. Connect to any of our broadcasting studios with studio-grade quality. We ship the kit to your chosen locations
Green Screen Studio
Create impressive experiences with just a few extra touches! Green backdrops allow your presenters to be immersed in your chosen environment.
Extended Reality Studio
Create a true wow-effect using Extended Reality (XR) Studios. Blend virtual and real-world environments using Augmented reality (AR) and Mixed Reality (MR) technologies.
Dream Studio
You dream it, we do it! We can custom build your studio with any size stages and screens to create the best possible environment to showcase your event.
Event scales
Grande
Larger than life – your dream Studio. A fully branded custom-built studio solution tailored to your needs and event goals. Multi-camera production with branded screen graphics, animations, and speaker intros. A scriptwriter, studio director, camera director, video operators and the full production crew. We take care of everything!
Large
A custom-built studio or a green screen studio tailored exactly for you. The fully branded event platform includes a virtual Lobby, Main Stage and parallel sessions possibilities. Multi-camera production with a scriptwriter, studio director, camera director, video operators and a full production team.
Medium
A virtual event that's more than a webinar. Produced by a team of specialists in a ready-built Studio or fully Virtual Studio with a high-quality technical set-up. Includes participant communication, branded screen graphics, animations and speaker intros.
Small
Webinar style virtual event on a fully branded platform produced by a team of specialists using a high-quality technical set-up.